Dear Readers,
How have you been?
A travel post after a really long time.
During the last few months that I have lived in my hometown, many friends and readers have asked me what are the 'must-visit' places in Mangaluru. Having lived here for many years on and off, it is hard for me to quickly make a list. Like every Indian city, Mangaluru is rich in its culture and heritage. Different parts of the city have unique things to offer and it is impossible to cover them all even in a year, let alone a single day. This is my humble attempt to bring about the essence of the port-city to you.
Start your day with Kayaking
I cannot think of any better way to start your day in the city than this – Kayaking around an island in River Shambhavi, Mulki (25kms from Mangaluru city). The drive from the city to Mulki is also smooth and enjoyable. At Rs. 500 per person, you can spend 2-3 hours here in the morning, Kayaking in the river while watching the sunrise. The place is clean and instructors are polite. There is also a small breakfast joint and shower units.
If you wish to spend more time here, they offer different packages like camping and sky gazing. You can check their website here.
There is also a well-known ancient temple in Mulki that you can visit – Shri Venkataramana Temple.
Breakfast at Anmol
The visit to any place is incomplete without trying the local cuisine. Mangaluru has a variety of snacks and breakfast items to offer if you know the right place to look. Apart from popular south Indian breakfast items like Dosa, Idli and upma, Mangaluru offers Neeru Dosa, Goli Baje, Mangaluru Buns and a variety of fritters. Click on the words to know more about these items.
Dosa Camp's Anmol veg restaurant is our go-to place.
Temples of Namma Ooru
Mangaluru is a place rich in culture and heritage. With many communities living here, there are many old, beautiful temples and churches in the heart of the city. You may not be able to cover them all on the same day so here are a few you can visit depending on the availability of your time. (Click on the headings to learn more about these temples)
Mangaluru city is named after Goddess Mangaladevi, a form of Shakti. Sri Mangaladevi Temple at Bolara is auspicious and of significant antiquity. It is believed to have been built in the 9th century.
Apart from a very serene environment, this well-known temple of Mangaluru has its own mystery – Gomukha Theertha. Water flowing from a small tunnel fills seven holy ponds in the temple. The holy water is said to be flowing in from 'Holy Kashi', as River Ganges, also known as 'Bhagirathi Teertha'.
If you happen to visit Mangaluru during Dasara, do not miss this temple. Read more about Mangaluru Dasara here. You will get to see the famous tiger dancers (Pilivesha) during this time.
A 17th-century Venkataramana temple with a rich history that one must read before visiting. Many other ancient temples can be found in the area at walkable distance. If you happened to visit Mangalore in February, do not miss the Kodial Theru and Okkuli.
This almost one and half-century-old chapel can be found in the well-known St. Aloysius college in the heart of the city on the Lighthouse hill. The interior of the chapel is decorated with paintings by Antonio Moscheni (1854 –1905) that cover almost all of the walls, which is unusual in chapels in India. Do not miss this while you are in the core city.
Authentic Mangalore Lunch
Vegetarian Meal
Hotel Ayodhya and Taj Mahal Cafe (99-year-old hotel) have been around for several decades now and are known for their delicious Konkani vegetarian lunch. Some of the Konkani delicacies that you must try if you're in the city are Pathrode and Khotte Kadabu among many others.
Seafood at Akkamakka's Meals
Mangaluru being a coastal city has innumerable sea-food restaurants. Names like Machali, Hotel Narayana and Giri Manjas are synonymous with Sea-food. Being a vegetarian, I don't really know enough to suggest the best seafood restaurant in the city, but when I asked a few localities about old, authentic sea-food hotels there was one name that everyone said is a 'must-try'. Arguably the oldest hotel in Mangaluru, Akkamakka's Meals is 130 years old and serves fresh home-cooked meals. Please note that they only serve fish meals and fries. No other non-veg food is served.
If you want to experience something new in dining, check out the Abbakka Queen Cruise known for delicious seafood. It is also known as a floating restaurant that is open from 12 PM onwards. The boats move only during weekends.
Site seeing/ Shopping
Mangaluru being a coastal city is hot and humid throughout the year, even during monsoons. Afternoons especially can become unbearable if you are out in the open and not used to the weather. Hence you need to take a call here. Shopping can be less tiresome than site seeing in the noon. If you stop at one of the hotels mentioned above for lunch, you can continue to explore the same area of Hampankatta known for many local shopping streets and markets.
Here's a good post on all the shopping spots in the city.
While you are here, do get some yummy cashew macaroons from City Bakery. They make great gifts for your loved ones back home.
Snacks at Car Street
Kamath Condiments is our go-to place for authentic Mangaluru Churmuri. Mixed with coconut oil, raw mango, spices and lots of freshly cut vegetables this popular light snack can be found all over the city in different versions, mostly roadside stalls and small shops. Our personal favourite is this one at Kamath Condiments. While you're here give the cucumber salad and Raw mango pacchadi a try.
Next to this shop is the Podi shop that the city swears by – The Balli's Shop. Click on the words to watch a vlog about the shop. Here you get a variety of Podis (Fritters) and other snacks. Try the Biscuit Rotti here. Vegetable bonda, and Cabbage Ambade, Chatambade are other popular snacks here. All the dishes are at extremely reasonable prices.
Don't forget to try the chilled Punarpoli (Kokum juice) or lime juice with Sabja here, after having your fill of podis.
Note: Visit The Balli's shop between 4:30 pm to 6:30 pm Mon-Sat. Closed on Sundays. Due to very high demand, the stocks get over very quickly and you may not get to try many of the beloved podis if you're late.
A few steps from these old, well-known eateries is a new hangout place called The Champa's Sweets. You get all sorts of sweets, chaats and snacks here. I liked the Masala Puri and Sabja Mint juice.
Sunset at the Beach
Mangalore is known for its abundance of beaches. A quick google search can give you a good idea of the nearest beach. Here is one good article on this. Tannirbavi and Pannambur beaches are closer to the core city.
If this is your first time in Mangalore, I recommend Tannirbavi beach. From the city, you can visit Sultan Battery ( A watchtower built by Tipu Sultan in 1784) and take a ferry to the beach. The beach is usually less crowded and maintained well.
Dinner and Desert at Pabbas
If you've heard of Mangaluru, it is impossible that you have not heard of Pabbas – the most popular ice cream place in the city. From the signature Gadbad to the recent additions like Ice cream Pizza, Ice cream Thali, everything they come up with is an instant hit. There are branches of Ideal Icecreams at many places in the city, but this branch is easily the most popular.
We now have Naturals and Polar Bear among many others.
The most recent branch of Ideal Icecreams is in Bharath Mall where apart from dozen varieties of icecreams, snacks like Sandwiches, chaats, burgers, Dosas and combos are available. The cutlets and Schezwan sandwiches are my favourites.
As cliche as it sounds, your trip to Mangalore cannot be complete without having a Pabba's icecream.
BONUS
Have more than a day to spend in this port city? Don't miss out on these places around Mangalore.
Note: You may not be able to cover all of these on the same day.
Place: Vamanjoor
Distance from Mangaluru: 9 km approx.
Place: Kateel
Distance from Mangaluru: 19 km approx.
550 steps to a breathtaking view.
Place: Bantawal
Distance from Mangaluru: 28 km approx.
Place: Moodbidri
Distance from Mangaluru: 32 km approx.
Place: Kapu
Distance from Mangalore: 45 km approx.
Timings: 4 PM to 6 PM
Place: Malpe
Distance from Mangaluru: 65 km approx
If you are planning to visit this place, travel for another 6 km to reach the temple city of Udupi.
Celebrations across the year
Before you plan your weekend trip to Mangalore, take a look at what special event is being held in the city during that month.
January – Mangaluru International Kite Festival
February – Kodial Theru
March – Mariyamma Temple Festivities
April – Agni Keli
Aug to Sept – Ganesh Chaturthi
October – Mangaluru Dasara
November to March – Kambala
Note: The dates might vary slightly based on the Indian calendar of the particular year. Please check in advance before making your bookings.
Sometimes luck plays its role and we get to witness some amazing unplanned things in our travel journey. Here are some such experiences to look out for while in the city.
Yakshagana
Yakshagana is performed at many places in and around the city throughout the year. Temples like Kateel Durgaparameshwari and Kadri Manjunathswami are known to host this beautiful dance performance.
Kambala
Between November and March, Kambala is held in different places in the city outskirts.
Bhoota Kola
Buta Kola is an Animist form of Spirit worship from the coastal districts of Tulu Nadu and some parts of malenadu of Karnataka and Kasargod in Northern Kerala, India.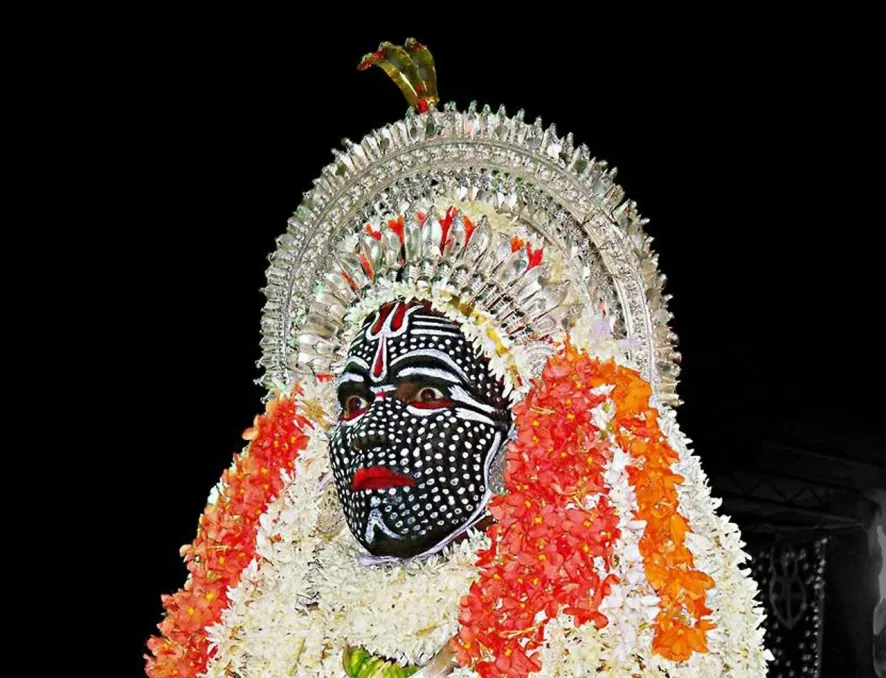 Pilivesha (Tiger Dance)
This unique dance form is performed during Dasara at many places in the core city. Tiger dance contests are held during this time. Pili Nalike and Pili Da Parba are well known.
Update October 2022: KSRTC launches Mangaluru Dasara Darshana tour packages at just Rs 300/-
Update Nov 2022: Interested in Cruise Dining? Check out Abbakka Queen Cruise.
That is all for this post. Know of any great places to explore in and around Mangalore? Tell us in the comments below 🙂
Love,
Ashwini
---
You can connect with me on:
Instagram: ashwinishenoym
Facebook: AuthorAshwiniShenoy
You can buy my books here: